Affordable Lighted Advertising Blimps
We have affordable internally lighted advertising blimps that will attract attention to your store or event.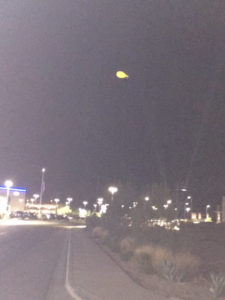 15ft yellow helium advertising blimp with internal LED light and removable, rechargeable battery. Light will work at full power for 10 – 12 hours.
Call 1-800-791-1445 for LED lighted advertising blimps.
Email: Sales@ArizonaBalloon.com for light blimps.
Our LED internally illuminated advertising blimps are made of polyurethane, not PVC, so they fly much better and require much less helium.
Our 10ft blimp only requires 72 cubic feet of helium and will fly well in wind up to 20MPH.
Our light blimps are easy to use. Battery pack has simple one plug to install and includes a remote control.
Call 1-800-791-1445 for lighted helium blimps and lighted advertising balloons.
Email us at Sales@ArizonaBalloon.com for advertising balloons and promotional blimps with internal LED lights.
In larger balloons and blimps you may want to have two lights to provide extra brightness.
We have been able to see blimps, having only one internal LED light, from 2.5 miles at night in the city. An extra internal light would really make it bright.
Give us a call at 1-800-791-1445 for light balloons and light blimps that fly well and are affordable.
Great for car dealerships, off site sale, promotions and the Dunes!